The mission of MCFNS is to publish peer-reviewed basic and applied research in Mathematical and Computational Forestry and Natural-Resource Sciences. This research can include theoretical solutions, proofs, derivations, software developments, and simulations, in forest management, growth and yield modeling, and other natural resource related studies. Journal items will be published collectively as part of an issue with its own Table of Contents biannually on the 30th of March and September of each year.
'The Thinker' (above) - Rodin
'In a certain sense, I hold it true that pure thought
can grasp reality, as the ancients dreamed.' - Einstein
________________________________________________ 
MCFNS Scopus Ranking: Q2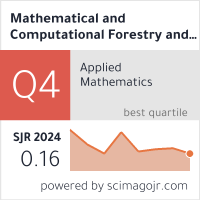 Announcements
MCFNS Web System: Server upgrade disruptions

There will be service disruptions in October
Posted: 2017-10-02
More...
Vol 9, No 1: MCFNS March 30, 2017
Table of Contents
Sampling and Natural Resource Inventories
| | | |
| --- | --- | --- |
| | KaDonna Randolph | 1-13 (13) |
GIS and Remote Sensing
| | | |
| --- | --- | --- |
| | Ramazan Akbulut, Zennure Ucar, Pete Bettinger, Krista Merry, Shingo Obata | 14-21 (8) |
Growth & Yield and Quantitative Silviculture
| | | |
| --- | --- | --- |
| | Jim Donald Kiser | 22-29 (8) |
Hydrology & Water Resources
| | | |
| --- | --- | --- |
| | Heléne Van Schalkwyk, Linke Potgieter, Cang Hui | 30-42 (13) |